Sojourner Truth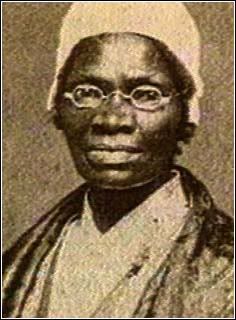 Sojourner Truth was born a slave named Isabella about 1797 in Ulster County, New York. Before the age of thirty, she had served three masters, married, and had five children. After obtaining her freedom in 1827, she did not want to carry anything from her life of slavery into her life as a free woman, and so she changed her name from Isabella to Sojourner Truth--Sojourner because she was going to travel the country and Truth because she was going to carry truth to the people.
And carry it she did! Working in the abolitionist movement, her stature, personality, and manner of speech captivated audiences and silenced her opposers. Her famous quote, "Frederick, is God dead?" was a question put to Frederick Douglass after a pessimistic pre-Civil War speech. She also worked for women 's rights. At the Womans Rights Convention in Akron, Ohio, in 1851, she stopped opposition with her speech, "Aint I a Woman?"
After the Civil War, she worked in Washington, D.C., trying to help the many former slaves who migrated to the city seeking new lives. Forced finally from her active life by age and health, she settled in Battle Creek, Michigan, where she died in 1883. Her monument is inscribed, "Is God Dead?"
Sojourner Truth Room
The Oxon Hill Branch Library was built in 1966-67 on the site of the Sojourner Truth Elementary School. This period of time was the height of the civil rights movement. One result of the movement was the realization that too little research had been done in the field of African American studies and that too little collecting of available materials had been undertaken. To meet this general need and the specific needs of the community, it was decided that the Oxon Hill Branch Librarys special collection would be concerned with African American history and culture. Named for Sojourner Truth, the collection continues to honor one of this countrys truly remarkable women.
The collection consists of over 7,000 cataloged items, many of which are rare or out-of-print; periodicals; some sheet music; pictures; posters; and vertical files which contain pamphlets, clippings, and bibliographies. The Oxon Hill Branchs circulating collection contains duplicates of many of the books in the Sojourner Truth Room. The branch also receives current periodicals in major areas of interest to African American studies.
The slave narrative is one of several subjects emphasized in the collection. Some original editions are owned, as well as many reprint editions and the 31-volume Writers Project series. Other subjects include slavery/anti-slavery; literary criticism, and African Americans in Maryland and Prince Georges County.
The books in the Sojourner Truth Room appear in the library system's catalog. A separate index of biographies, short stories, plays and literary criticism which are included in collections is in the Sojourner Truth Room.