Sri Lankan Sinhalese Family Genealogy
DIAS, Haramanis (Robo Singho) - Family #3008
1 Haramanis Dias (aka Robo Singho)
...2 Pattinihennedige Jeremias Dias b:1848 at Nalluruwa, Panadura, d:24-Mar-1902 + Celestina Rodrigo b:11-Jul-1858, d:26-Mar-1933, m:1873 (she established Visakha Vidyalaya in 16-Jan-1917). Helped to hold the Panadura Controversy 1873. President Panadura Association, Bddhist Philanthropist, supported Rankot Vihara, Panadura.
......3 Harry Dias
......3 Arthur Vincent Dias (popularly known as KOS MAMA) b:10-Feb-1886, d:31-Jul-1960
.........4 Nanda Nissanka Dias d:July 26 2012 + Dayadari
............5 Ajith N Dias + Sunel
............5 Naomal Dias + Deveni
............5 Neelakanthi Dias + S J de Silva

......3 Arthur Edmond Dias
......3 Charles Martin Dias
......3 Lilian Vilisia Dias + Abraham Perera
......3 Ellen Mania Dias + Thomas De Silva Wilson m:1888
Excerpt from an article published in the Sunday Times, 14th December, 1997
Celstina
and Visakha
The story of Celestina Dias, Buddhist female philanthrophist and educationist, by Manel Tampoe
Published by the Social Scientists Association
Reviewed by Mallika Wanigasundara
Celestina Dias (nee Patthinihennadige Warnadeepthia Kurukulasuriya Rodrigo), wife of Jeremias Dias of Panadura, the remarkable woman who founded Visakha Vidyalaya, Bambalapitiya, the premier Buddhist School for girls in Sri Lanka, was certainly not typical of women of her era.
In her extraordinary determination to found a superior Buddhist School for girls she showed a confident and single-mindedness characteristic of the manner in which she lived her life as a widow since 1902. She resembled, not a woman of her age and time, but the more enlightened, vibrant energetic activists of the 20th century's feminist movements.
Celestina was born in 1858. It was an era when a woman's worth and virtue were measured by her domestic competence. She was tied to home territory - husband, children, kitchen (ambul thiyal, kos polos), family weddings, funerals, alms-givings and the temple in almost all Buddhist families.
Celestina would have none of it. After she was widowed, she inherited her husband's massive fortune and became a business woman. "Renda nona" she was called and she strode her husband's arrack and plantation empire as if she was born to rule it. She is said to have shown no housewifely inclinations, but she managed her household staff with firmness and efficiency.
The foundations of her later philanthropy were laid quite early.
Celestina founded Buddhist Girls College (which later became Visakha Vidyalaya) in 1917 in an old house in Turret Road (Dharmapala Mawatha), Kollupitiya, called "The Firs" in memory of her son Edmund Wilson. Not a college for boys as you would expect.
She took the first step of creating two Trusts appointing W.A. de Silva first and later D.B. Jayatilaka, D.S. Senanayake and her son-in-law Thomas de Silva as Trustees.
Rs. 100,000 from her Good Hope estate, a valuable rubber property was set side for the school. Celestina's contribution to the school amounted to Rs. 450,000, a staggering sum in those days, out of a total of some Rs. 2 million given by her to charity.
It was not too propitious a time to start a Buddhist school for girls. Parents were still enamoured by the denominational schools and were wary about taking them out of these schools. Besides, Buddhist Girls College started off in the least flamboyant fashion. The house provided hostel accommodation (the done thing was to send your children to boarding school) for students and teachers. The classrooms were in old stables, garages, outhouses and cadjan sheds at the back. Hardly enticing, one would think.
Manel draws a picture of life in the school in those times culling from the memories of the few old students who are still living. It was compulsory to speak English in school, and the emphasis seemed to be to prepare the girls for genteel society in a kind of Victorian way at the beginning.
They learnt to play the piano, tennis in the evenings, art, drawing, clay modelling, embroidery, deportment, table manners. Physical exercise, games and dancing was also encouraged. All this tended somewhat to alienate the girls from traditional life styles in Ceylon and soon this was corrected. The going was never easy. There were financial deficits, and there was the need for a strict control of expenditure. D.B. Jayatilaka did just that. The only comic relief in those years of worry was the two feet long and three feet wide hostel accounts book which was lugged to D.B. Jayatilaka's residence every morning.
As time went on the situation improved, examination results were good and the school expanded rapidly.
Celestina is remembered visiting the school in her crisp cloth and "kabakuruththu" jacket with sweets for the hostellers. It is important to record that in her later years, she distanced herself from the arrack business on the advice of Arthur Dias, temperance worker.
--------------------------------------------------------------------------------
Excerpt from an article published in the Sunday Times, 23rd August, 1998
...a friend in need
by Upali Salgado
.... Perhaps the most talked about persons of the clan was Miss Celestina Rodrigo (Later Mrs. Jeremias Dias) the founder/benefactor of the Buddhist Girls College in 1917 at "The Firs" Turret Road (now Dharmapala Mawatha.) The school was later renamed Visakha Vidyalaya, when it was moved to spacious four acre surroundings at Vajira Road.
Mrs Celestina Rodrigo was a remarkable woman, who was born to give her wealth to the needy. She became a national figure, when decorated with the MBE. Manel Tampoe in her book The Story of Celestina Dias says, " Her charitable impulses did not diminish with age. As a woman she was not entitled to membership in the "Rodrigo Friend In Need Society", though she was the most illustrious member of the family at that time. (Later, membership became open to both males and females of all Rodrigo families). But, it did not deter her from making donations to the Society. She thoughtfully donated a handsome lump sum to be used to provide dowries for daughters of the poorer members. It is also known that, she had built a hearse, which was given with Petrol free of any charge, to poor people who asked for it; and this proved to be a boon to people of diverse ethnic groups."....
---
The birth of the founder of Visakha Vidyalaya
Sunday Times 9 July 2006: A major philanthropist Mrs. Jeremias Dias, best remembered as the founder of Visakha Vidyalaya, the leading Buddhist girls school in Sri Lanka was born on July 11, 1858. Hailing from Panadura, Selestina Rodrigo married Jeremias Dias, a wealthy plantation owner as a teenager. After being widowed when she was 44, then a mother of eight children, she spent her wealth to promote the cause of Buddhist education and assisted in the campaign to resurrect Buddhism in this country.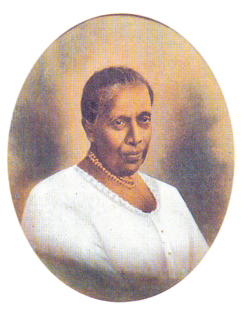 Mrs. Jeremias Dias (1858-1933)

She started Visakha Vidyalaya by leasing a house at Turret Road (present Dharmapala Mawatha) in 1917 and having bought three acres in Vajira Road, moved the school in 1926. She formed a Trust and appointed a Board of Management to administer the school and provided funds by donating a 180-acre rubber estate and a coconut plantation at Horana. Her service to Visakha Vidyalaya has been recognized by naming the newly built auditorium after her.
Meanwhile, when Ananda College was refused a government grant due to the lack of a laboratory, she built a modern laboratory for the school which helped it to be recognized as an institute of higher education.
The Jeremias Dias Buddhist Educational and Charity Trust Fund established by her, awards scholarships with monthly grants to a large number of needy Buddhist students including undergraduates. She helped the poor constantly, distributing foodstuff, clothes and other needs to them every weekend. The innumerable religious and social service activities initiated by her have helped a large number of organizations to fulfill their objectives.
She was on the honours' list of the monarch of England and was awarded a MBE (Member of the British Empire). She died on March 26, 1933.
| | | |
| --- | --- | --- |
| Back to Top | | Back to Funday Times |
'Ceylon Times' begins publication
The first issue of 'Ceylon Times,' a new paper started to oppose the 'Observer' appeared on July 11, 1846. The newspaper, which became the 'Times of Ceylon' in 1883, prospered after John Capper, a sub-editor in the London newspaper 'Globe' bought it in 1858 and became its editor. Its object was to further the interests of the mercantile community.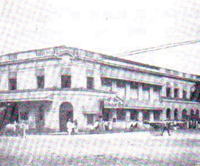 The 'Times' bulding in the early days
At the time 'Ceylon Times' was started, at least three English newspapers were published during the week. While the 'Observer' came out on Monday and Thursday, 'the 'Times' was published on Tuesday and Friday. The third newspaper, the 'Examiner' appeared on Wednesday and Saturday. By the time Capper left in the early 1880s, the 'Times' was getting established as an evening daily newspaper and the most popular one with a wide readership.
| | | |
| --- | --- | --- |
| Back to Top | | Back to Funday Times |
First signs of representative government
Following the recommendations of the Colebrooke Commission, an Executive Council and a Legislative Councils were established under an Order-in-Council in 1833. The Executive Council consisted of the Governor and five official members - the Colonial Secretary, the Officer commanding the military forces, the Attorney General, the Auditor General and the Treasurer. The Legislative Council consisted of nine official and six unofficial members who were nominated by the Governor. It was on July 9, 1837 that the unofficial members took oaths.
Though the Legislative Council was only a little more than an advisory body, it paved the way for a representative and responsible government to be evolved in later years.
---
History of Visakha Vidyalaya
The school was established in 16th of January, 1917 by the late Mrs. Jeremias Dias as Buddhist Girls College in a house called 'The Firs' in Turret Road, Colombo, Sri Lanka. It was the desire of Mrs Jeremias Dias to train the school girls according to the Buddhist moral values and principles through this institute. In 21st of November 1927 it moved to its present premises in Vajira Road, Colombo and named Visakha Vidyalaya(Visakha College) by Lady Herbert Stanley the wife of the Governor of Ceylon at that time. From its humble beginnings, it has risen to the position of the leading girls' school in this island. Science subjects in to its curriculum in 1946, for the first time in a girls school in Sri Lanka.
---
Arthur Dias - A man for all seasons
Death anniversaries of two nationally recognized personalities fall on July 31: They are the mighty Maha Mudaliyar Sir Don Solomon Dias Bandaranaike, KCMG, of Attanagalla; and the benevolent but bold Arthur Vincent Dias of Panadura.
The Don produced three national leaders - SWRDB, Sirimavo and Chandrika - and tends to be forgotten since his demise in 1946. Arthur Dias is oft-remembered since his passing away in 1960 for his pioneering campaign of giving the nation food to ingest as well as food for thought and initiating another pioneering campaign to plant a million jak trees. He earned the endearing sobriquet of Kos Mama or Kos Ata Mama.
Arthur Dias pioneered his tree-planting campaign for jak fruit (artocarpus heterophyllus) in 1918. He imported a special strain of jak seedlings from Johore in Malaya. He established a small office in his home to organise and distribute jak and papaw seedlings and plants free of charge to the public. The catch phrase in this campaign was that "jak was good for food and wood."
Apart from promoting the planting of jak, which he called the Buth Gaha (rice-tree), he encouraged the propagation of fruit trees which included papaw (carica papaya), mango (mangifera), sapota or sapodilla (manilkara zapota), durian (durio), golden apple or ambarella (spondias dulcis) and lovi (flacourtia-inermis). Sachets comprising seeds of these fruit trees were distributed free of charge to the public.
Arthur Dias was born on 10 February, 1886, to wealthy parents: P. Jeremias Dias and Selestina Rodrigo; a prominent family in Panadura who earned their fortune from the popular and lucrative arrack-renting trade augmented by the income from a large acreage of rubber.
Arthur Dias received his nursery education at St John's College, Panadura, now Cyril Jansz Vidyalaya, and completed his secondary education at St Thomas' College, Mt Lavinia.
He conducted himself different from his rich and rambunctious father. (Jeremias Dias was an ardent Buddhist and gave freely of his money earned as an arrack renter towards his religious cause.
It is said that Arthur Dias being no hypocrite preferred to remain silent with folded palms while others repeated the fifth precept while observing pansil.)
The thoughtful and quiet young man curtailed his studies soon after leaving St Thomas' and took over managing the family business and trade since the death of his father in 1902. He became an accomplished rubber planter and businessman but was never enamoured by the riches that were accumulating from the arrack trade.
Family involvement
It is said that it was the family involvement in the arrack trade which made him turn to temperance early in life after witnessing the horrors of what drink did to man especially during the celebrations after a successful bid by the family for a profitable tavern.
The sprawling family home in Panadura became "open house" for all and sundry and the celebrations went on until the supply of free booze ran out which saw many of the visitors lying around in a stupor or behaving in an unruly manner to be bodily thrown out by their indulgent host. All this was too much for the sensitive young man who was already involved in national interests and intent on following in the footsteps of persons like Anagarika Dharmapala, Walisinghe Harischandra, C.A. Hewavitharana, F.R. and D.S. Senanayake while receiving from them the inspiration to serve the country and nation.
Simple life
Similar to his mentors, Arthur Dias opted for a simple life notwithstanding his enormous riches, which he doled out generously for philanthropy. He donned the white banian and cloth in preference to fashionable western attire.
He was instrumental in the regeneration of the model village of Heenatiyana, where simple living and self-help were the driving force. He pioneered writing and signing cheques in Sinhala, and was the first planter to correspond exclusively in Sinhala. In 1912, Arthur Dias was one of the pioneers to join Don Spater Senanayake in the Hapitigama Korale in Negombo to launch the Temperance Movement which encouraged the closure of taverns in townships and villages with the intention of breeding a just society, to foster peace and harmony amongst all communities.
Richard Salgado and Dr. Marcus Fernando amongst others were also temperance workers.
The core principle of the movement discouraged the consumption of liquor, smoking and cattle-slaughter. Soon after February 4, 1948, he wrote the following curt note to his close friend, the D.S. Senanayake, PC, after his suggestion that no liquor be served at the official Independence day celebrations was rejected by the Prime Minister: "I am not satisfied with the way things are going on after Independence. Our culture has found no place in the administration. I am a sad man.
Let this be the parting of the ways. You go your way and I go mine," This note was reportedly written in blood, unwillingly lanced from his finger, by his family physician, Dr C. Wilmot Dias. The spat between two close friends was short-lived. In 1915, the infamous Sinhala-Muslim riots rocked the country and Arthur Dias was imprisoned by the British government.
The others jailed were his elder brother Harry, brothers-in-law Richard and Walter Salgado, Dr WA de Silva, brothers DC, FR and DS Senanayake, C. Batuwantudawe, George E. de Silva, AE Goonesinghe, DB (later Sir Baron) Jayatileka, Dr CA Hewavitarne, John Silva, Piyadasa Sirisena, Edwin Wijeyeratne (later Sir Edwin), and several other Buddhist leaders whom the British mistakenly thought supported the 1915 riots. Arthur Dias and others were sentenced to death after a court martial hearing.
The family retained Advocate Eardley Norton, renowned as the Lion of the Madras Bar, from India, who got him off the hook.
The death sentence was eventually commuted to one of life imprisonment. Later, the new Governor Sir John Anderson, GCMG, KCB, who replaced Sir Robert Chalmers, GCB (later Lord Chalmers) released him after his mother paid a fine of Rs. 100,000.
After his release, Arthur Dias made a beeline to the village of Medamaha-Nuwara where Sri Wickrama Rajasinghe was arrested by the British. He built a commemorative pillar on the spot and pledged that he would thenceforth dedicate himself to the emancipation of Ceylon from the British yoke.
Arthur Dias was by this time the epitome of the patriot, planter, pioneer temperance worker, national hero, philanthropist, and ardent supporter of the government's Grow More Food Campaign.
MILESTONES
*Arthur Dias reportedly declined a knighthood from Governor Sir Andrew Caldecott, GCMG, CBE, during his tenure from 1937-1944.
*In Oct-1957, at age-71, we read his type-written letter to Premier S.W.R.D. Bandaranaike, politely declining a seat in the Senate, offered over the telephone, owing to "feeble old age."
*Author of Three Prime Ministers of Ceylon, J.L. Fernando, in an article in the Ceylon Daily News of August 01, 1960 recalls a conversation with the Minister of Home Affairs Sir Oliver Goonetilleke, who stated "with pride that at least a million jak trees in our country owed their existence then to Arthur Dias."
*Arthur Dias was the first and sole private citizen to receive a special concession from the Minister of Communications, Sir John Kotelawala to use the OHMS frank for his Grow More Jak Campaign by which he had reportedly posted some sixteen million jak seeds and plants, with leaflets containing instructions and letters of encouragement, to town and village folk.
*Arthur's indefatigable mother, Selestina Dias, a widow since 1902, founded Visakha Vidyalaya, then called Buddhist Girls' College on January 16, 1917 in a house called Firs at Turret Road in Colpetty.
* The first Board of Governors of the school, comprised DB (later Sir Baron) Jayatileka, DS Senanayake, Arthur V. Dias, Sir Susantha de Fonseka, CM Dias and Lady Evadne de Silva, wife to Sir Ernest. The school shifted to Vajira Road in Bambalapitiya on November 21, 1927 with the governor's wife lady Herbert Stanley giving it a new name, Visakha College.
* Selestina Dias also established the Sirikandula Buddhist Educational Trust, and the Jeremias Dias Educational and Charitable Fund.
She was later conferred an MBE in the King's honours list.
* When Ananda College was in dire need of funds, Arthur Dias extended his support by writing a cheque for Rs. 20,000, and thereafter raised Rs 10,000 each from FR Senanayake, Dr WA De Silva, Domingo Dias. He was also instrumental in building the Edmund Wilson Science Library to enable Ananda College to gain Grade-1 status.
* In July, 1971, in order to assist the Help Ananda Fund, Arthur Dias urged rubber growers in the Kalutara district to donate a day's collection.
* In 1926 under the aegis of the founder of Nalanda College, P. D. S. Kularatne, its first principal Dr G.P. Malalasekera organized the famous Nalanda Flower Day campaign to boost the Building Extension Fund.
It was ably supported by Arthur Dias resulting in the construction of a new storied building. Arthur also assisted Dharmaraja and Dharmasoka colleges.
FAMILY
Arthur Dias married Grace Salgado, and they had nine children: His five daughters were Mallika, wife to Prof. Gerald Cooray, Lalani wife to V.C. Jayasuriya, Srimathi, wife to B.R. de Silva, Nerupamal, wife to N. de Fonseka and Anoma, wife to Rukman Amarasuriya. His four sons; were Upali, Nanda, Chandra and Dr. Padma.
Except for Nerupa and Nanda and Dr Padma's wife, Kusum all others have passed away.
DEATH & EPITAPH
Arthur Dias died at his home, Edmund Niwasa in Panadura on July 31, 1960 at the age 74. He was a man who upheld national freedom, national dignity, national dress and national food. He was a man who lived a simple and austere life inspired by the tenets of Buddhism. A man who believed and lived the Sinhala adage, "example is better than precept."
A one-rupee postage stamp was released by the government postal department in his honour on his 26th death anniversary in 1986.
---
Honouring Arthur V. Dias
Jak tree should have been named the National Tree:
The Daily News feature writers Nalin Fernando and Firoze Sameer deserve to be complimented by readers for their excellent well researched article (July 31) on that great patriot of yore Arthur V. Dias. Of all his pioneering, courageous initiatives, the campaign to plant a million jak trees was indeed the most noble concept. Had this effort been relentlessly pursued, today it would be having a significant beneficial impact not only supplementing healthy food requirements but more importantly the environment.
But by the wanton destruction of Jak trees accelerated particularly by the timber requirements of the construction boom of the past three decades a great disservice has been done to the memory of this great son of Lanka.
The rapid fragmentation of land for building purposes has had a devastating effect on jak as well as other trees. Notwithstanding all the laws that have been enacted by well meaning governments Jak trees keep on vanishing. In most urban areas of the country, Jak trees and even coconut trees have become a rarity. It is not far from the truth to state that many schoolchildren in Colombo have not seen a jak tree!
When a Jak tree can easily be grown in a homegarden and its wonderful shade and fruits enjoyed, lazy urban lifestyles are driving housewives to stand round pavement jak vendors to buy a polythene bagful of cleaned and shredded tender or mature jak. When bought by the gramme and cooked and consumed as a mere accompanying curry they probably do not realize the potential jak has as a substitute for the rice of the common man.
The proliferation of residential buildings in cities and the suburbs with limited space for trees has led to the emergence of individuals and even communities with no love for trees. There are even anti-social petty minded individuals who curse the winds if the leaf of a neighbour's falls on their concrete, treeless and even grassless outer areas. It was this mental degradation resulting in a condition that psychiatrics described as an "aversion to greenery" that prompted Singapore to introduce legislation to make it compulsory to grow trees round houses.
This unique, less apparent human factor would also have presented obstacles to the Jak planting campaign of Arthur V. Dias. Singaporeans who for generations had grown up in 'concrete jungles' initially found it difficult to adjust to a green environment with falling leaves, twigs and fruits. This natural fall out of a green environment came to be considered a nuisance.
Such cranky individuals exist in Sri Lanka too. About 25 to 30 years ago when I was DIG Metropolitan, I received a petition against the Cinnamon Gardens Police that the latter had refused to entertain a complaint. When I recorded the statement of the aggrieved party he said that when he drove out of his residence rotting mangoes that had fallen off a tree of a neighbour on to the road were polluting the wheels of his new car! I asked this man who was an educated professional," what if you run over cow dung or the sh--of a dog-- you will want to change the wheels of your car." I had to explain to this stupid man that the police were well within the law to refuse to entertain trivial complaints.
Another major sociological obstacle to Arthur V. Dias's efforts to popularize jak was the 'brown Sahib' dominated ruling class of the time who used only silver cutlery and Johnson's crockery. To this class, which exists even today eating jak was 'infra dig' it is a fact that seldom or never is jak served at our State banquets or even at wedding functions in star class hotels. The country needs another V. Dias to give a start.
Jak tree is one tree that fully deserves to be protected to the utmost. Its fruit can be consumed tender, mature or ripe. Our forefathers even dehydrated the pulp (Atu Kos) and preserved it to be eaten during the off season. The value of a jak tree as a 'buth gaha' overwhelmingly outweighs its timber value.
The Na Tree's (Iron wood tree) tender leaves often glamourized in classical Sinhala poetry led to its fame and recognition. But unlike the highly versatile jak, Na has limited uses. Because of its thick foliage that provides shade and the unique redness of its tender leaves it had been planted as an ornamental tree in the Walawwas of yore eg. Batadola and Weke in the Gampaha District and in cemeteries eg. Borella Kanatte. It is surprising indeed that adequate importance had not been given to the life sustaining jak tree when naming a "National Tree".