Welcome to the Warwickshire message board
---
FOR successful LOOK-UPS
PLEASE post
full names, places, dates, siblings, family
your URL too - all you know !


ADMIN : Hugh Watkins
E-mail:
---
---
UK PARISH REGISTERS

- Please note that the SOG are continually adding registers to their library in LONDON. You are always advised to look at the catalogue http://www.sog.org.uk/prc for any UK parish in which you are interested


---
after July 1 1837 mainly use BMD certificates for UK Genealogy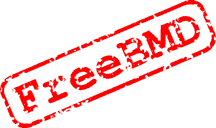 - THE WHOLE of the

civil registration

INDEX
is NOT YET TRANSCRIBED
BUT it is also available on fiche and online


google for more faq



---
---
---
http://www.familysearch.org
- there are issues about errors -


so always check original sources.


Get step-by-step research guidance on searching for your ancestors


---
Birmingham Register Office
The registers of births, marriages and deaths which have occurred in Birmingham since July 1837 are, with a few exceptions, held at the Register Office.
The original records of births, marriages and deaths are not open to the public but certified copies of individual register entries or certificates are available on application to the Register Office. The application must provide sufficient information to allow a search to be made and to allow any entry found to be identified as the correct one. Fees are charged for certified copies from register entries
Genealogy: It is appreciated that, in some cases, sufficient information may not be known and that the certificate is required to establish the details. Please seek further advice from the Register Office as it may be possible to carry out a search.

Register Office
300 Broad Street
Birmingham
England

B1 2DE

Telephone: 0121 212 3421
Outside UK: (+) 44 121 212 3421
Email: register_office@birmingham.gov.uk
---
UKBMD - Births, Marriages, Deaths Indexes for the UK, On-Line
Westmidlands BMD The Register Offices in the county of West Midlands, England, hold records of Local births, marriages and deaths back to the start of civil registration in 1837.
The county's Family History Societies are collaborating with the Local Authority Registration Services to make the indexes to these records freely searchable via the Internet.
Although the indexes are not yet complete for all years and districts, the database will eventually cover West Midlands births, marriages and deaths for the years 1837 to 1950 and beyond.
---
Hugh Watkins, host
updated March 28 2004
dnkcen Site Map
site map of Merionethshire WalesGenWeb